Shustoke Offshore Group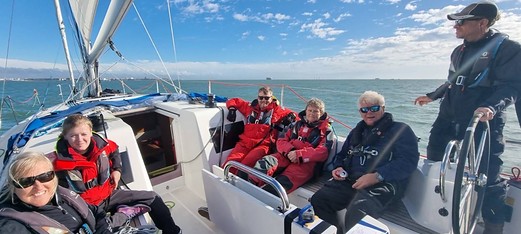 Cruising and Racing
Shustoke Sailing Club Offshore Section runs two primary yachting programmes, cruising and racing.
The cruising programme is co-ordinated by Tony Campion and will draw on a number of key skippers to help run a varied programme. We run organised May Bank Holiday and August Bank Holiday cruise events, plus on a popularity basis the odd flotilla cruise in the Med. There are various skills and boat handling development weekends in addition to an occasional "Try Yachting" weekend in the Solent. The "Try Yachting" weekend is aimed at absolute beginners and is a great way to see if there's an inner Francis Chichester in you just waiting to be discovered !!!
The racing programme is organised by Geoff Johns with the help of a number of keen racing skippers. We have the Sunsail Weekend Racing programme sailing out of Port Solent, that provides round the cans yacht racing in the relatively flat waters of the Solent: this is a great way to build your skills in sail trimming, spinnaker handling, race helming, tactics and much more.
In addition to this we will enter at least one boat into the annual Round the Island Race in June, and we will also have one or two side programmes dipping into some higher level offshore racing via JOG (Junior Offshore Group) and/or RORC (Royal Ocean Racing Club).
Our mission is to help our members discover yachting and yacht racing, and to help them move up the ladder of progression as they choose.
Membership and Joining In
You don't have to be a member of Shustoke Sailing Club to join in with our yachting programme, but we'd like to think after trying us out, you will be very keen to be part of the team !
There are two routes to membership of the Offshore Section:
1. All regular Shustoke Sailing Club sailing membership classes have automatic free membership of the Shustoke Offshore Section.
2. "Yachting Associate" membership provides a way for non-dinghy sailing members to join the Offshore Section. If you are interested in joining our offshore programme, without the obligations and commitments of dinghy sailing membership, and you are happy to manage communications electronically, then this membership will be ideal for you. If later on down the road you'd like to join in the club's social activities at the club and sailing/racing on the reservoir, just say, and we can upgrade your membership to the appropriate class.
Booking Events
If you see something in the programme that you would like to find out more about, and perhaps book a slot, contact the event organiser by email and take it from there …
Skills, Tips, Training &amp Advice
Across the Offshore Section's membership we have several 10,000's of miles of yachting cruising and racing experience and we have a wide range of contacts in the industry to help with any specific training requirement you may have. So, if you have a question, want a recommendation or just want to discuss your training plan, please don't hesitate to contact any of us below.
Shustoke Offshore Facebook Group
Geoff Johns – Offshore Section lead and racing organiser.
Tony Campion – Offshore Section cruising co-ordinator.
See below for all the information for the Offshore sailing group.
2024 Offshore Group Programmes.
2023 Offshore Racing Programme.
2023 Sunsail Race Series Reports.
2023 Offshore Cruising Programme.
Last updated 15:28 on 12 November 2023